CRIME STOPPERS OF THE QUAD CITIES 5-K RACE
August 26, 2023
Come join us! Have fun and support safety in our QCA Community! The Smart Toyota Crime Stoppers 5K Run, 1 mile run and 1/4 mile fun run will be held Saturday, August 26th, 2023 in the Vibrant Arena parking lot, Moline. The race is being held in conjunction with MoLive events. Touch a Truck begins immediately following the race.
Use code nocrime5 for a $5.00 discount on registration
. For more information and to register:
https://secure.getmeregistered.com/get_information.php?event_id=MTY2MjY1ODgzMDg2NjJx%2FDodEx8KugBc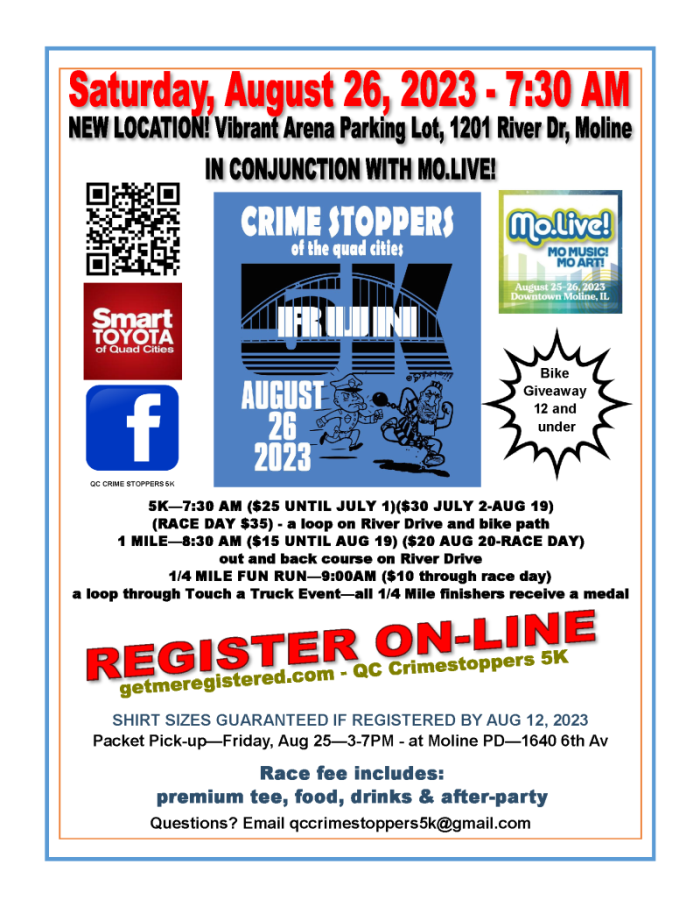 ---
2023 FISHING RODEO
June 03, 2023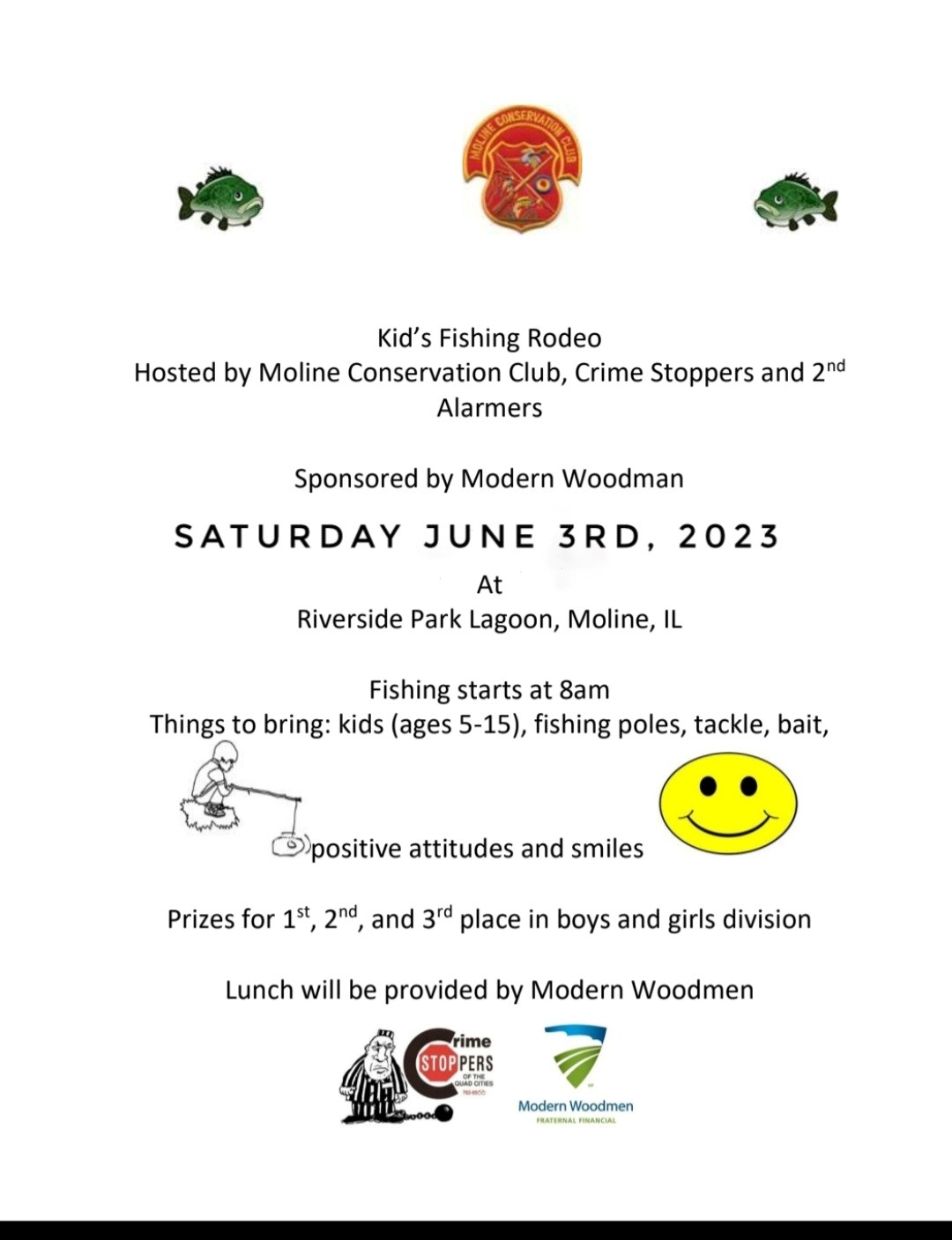 ---
2022 IMPACT REPORT
March 23, 2023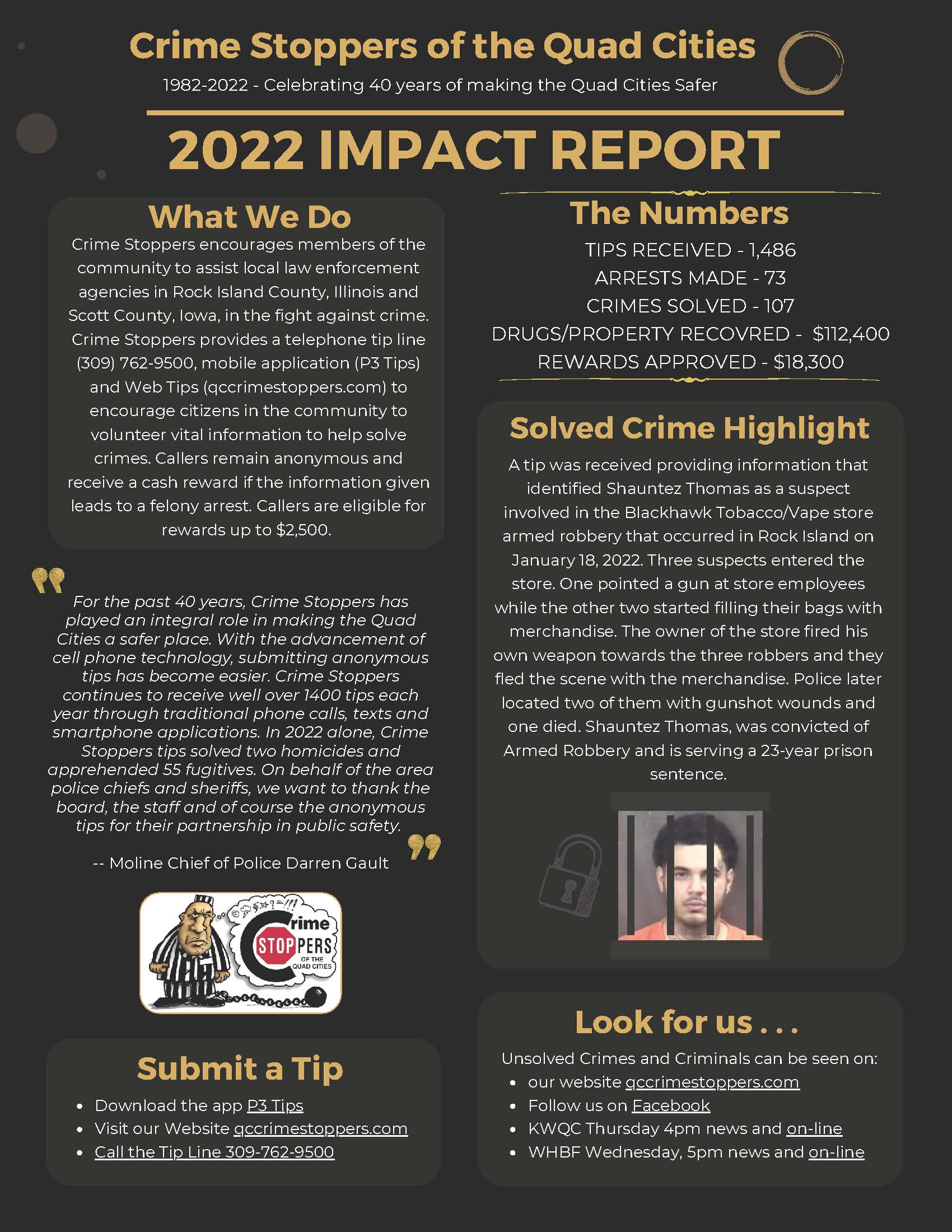 ---
FREE FISHING RODEO FOR KIDS AGES 5-15
June 04, 2022
JOIN US! Crime Stoppers of the Quad Cities Board of Directors will join the Moline Conservation Club and Second Alarmers for the annual Kid's Fishing Rodeo being held at Riverside Park Lagoon in Moline on Saturday morning June 4th, 2022. The event is free! Lots of prizes will be given away and a complimentary lunch is provided by Modern Woodmen. This is such a fun event for the kids! Bring them on down! Don't forget your poles, tackle and bait!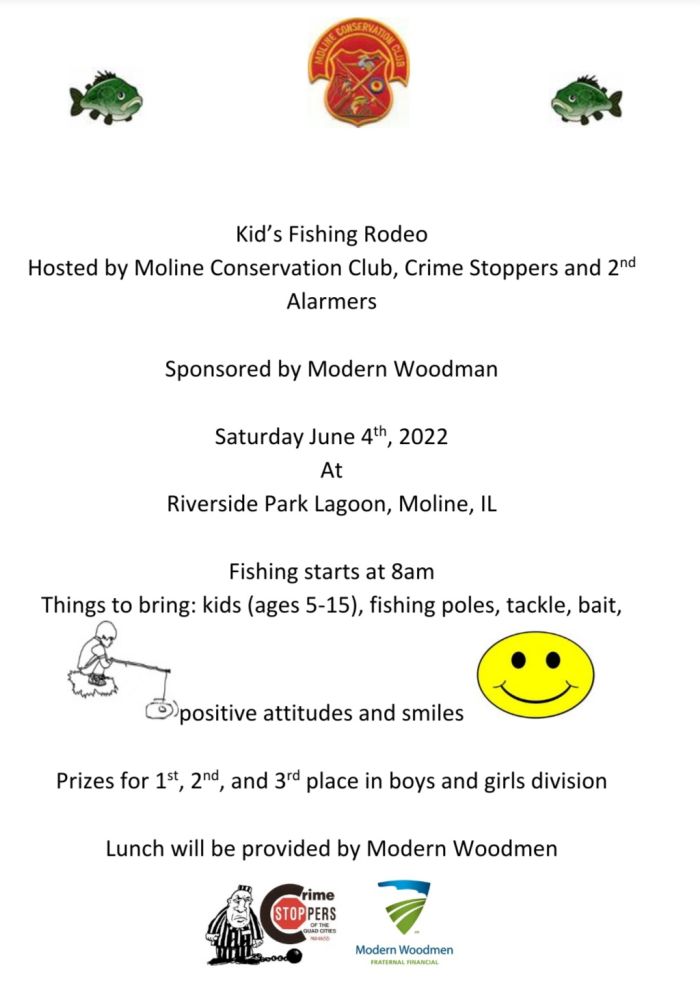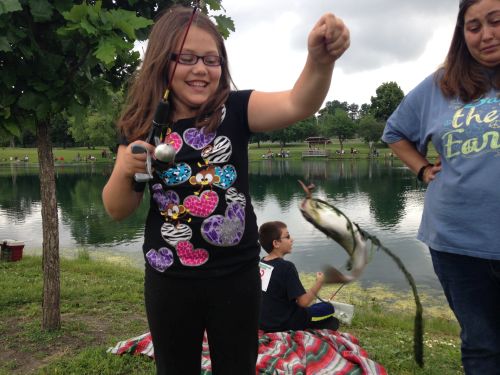 ---
MAKE A DIFFERENCE! DONATE THROUGH BIRDIES FOR CHARITY
May 24, 2022
You can help stop crime in the Quad Cities by supporting Crime Stoppers! Make your pledge through Birdie's for Charity and also qualify to win some great prizes! Click the link below and use Bird Number 2171. The cash rewards paid out for information that leads to felony arrests comes through the support of our community. No tax payer dollars are used. From 2018-2021 Crime Stoppers paid out $89,200 in cash rewards. Those tip led to 470 felony arrests. Good stuff!
CLICK HERE TO DONATE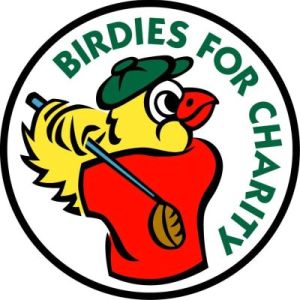 ---
BUY A BAG TO BAG A BAD GUY - HYVEE FUNDRAISER
December 01, 2021
During the month of December 2021, Hy-Vee (located at 4218 Avenue of the Cities, Moline) will donate $1 to Crime Stoppers of the Quad Cities for each re-usable "My Heart" shopping bag sold for $2.50. Money raised helps pay cash rewards for information that leads to a felony arrest in the Quad Cities.
Please get yours! Thank you for helping us "bag" the bad guys!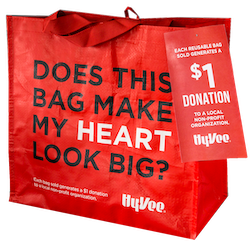 ---
CRIME STOPPERS RECEIVES DONATION FROM LULAC
November 23, 2021
Crime Stoppers of the Quad Cities would like to thank the LULAC Council 10 for their generous donation of $500 to the P3 Campus app program which provides students and families a safe and anonymous way to report safety concerns within our local schools. Presenting the check is Vice President of LULAC Toni Robertson, and accepting the check are Detective Leach of Crime Stoppers and Sergeant Quick of the Davenport Police Department.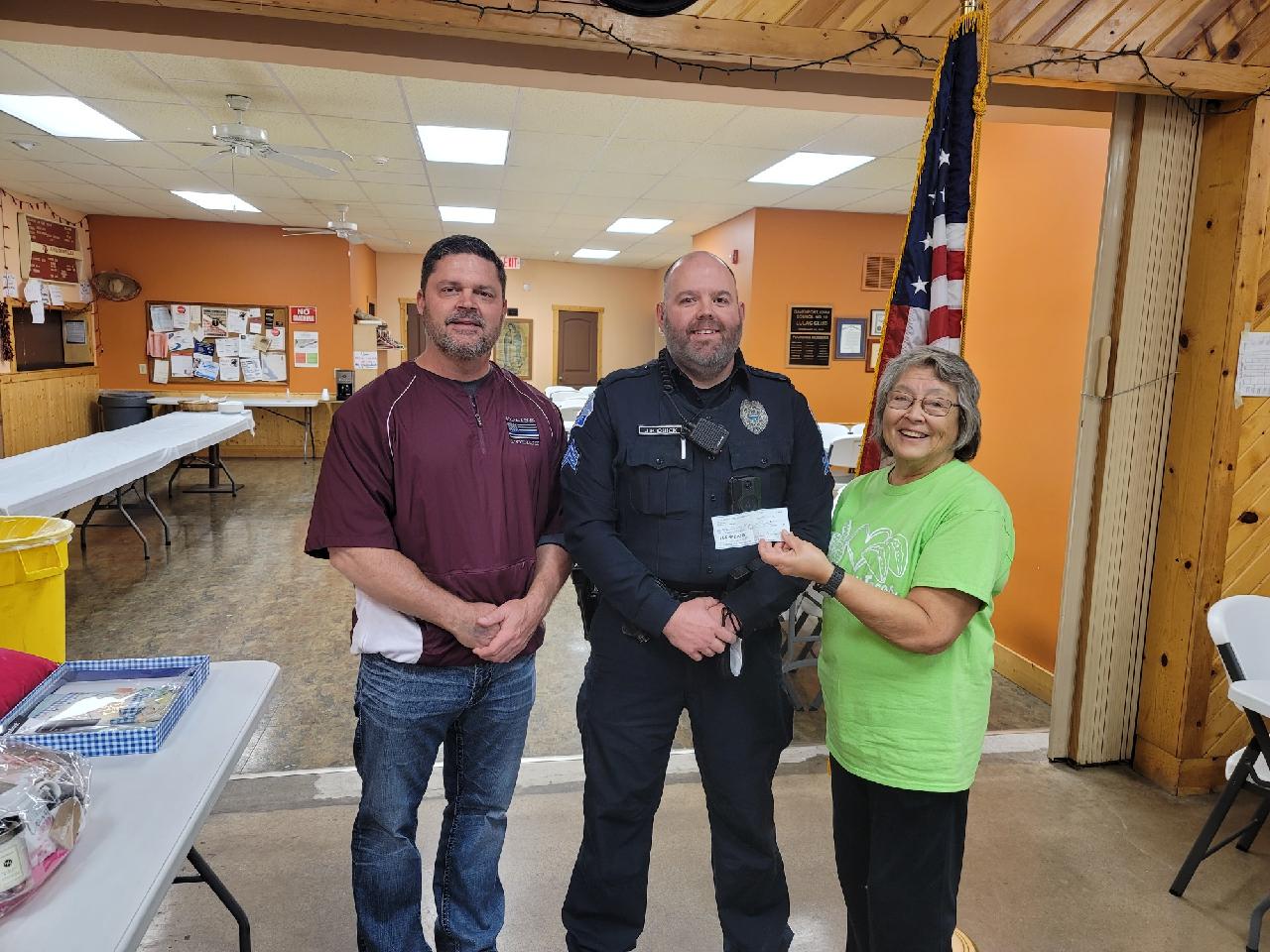 ---
CRIME STOPPERS RUN IS COMING BACK!
October 09, 2021
Great news! The Crime Stoppers 5K Run is coming back after a year off due to the COVID19 pandemic! Mark your calendar for Saturday, October 9, 2021, 5:00 pm. The run will once again take place in downtown Moline starting at Bass Street Landing. There will be a 5K run ($25 early registration), 1 mile run ($15) and 1/4 mile fun run ($10). We are raffling off a bunch of kids bikes. There will be tee-shirts, trophies, medals, great food and drink, and entertainment post-race by the band Been There Done That. It's sure to be a great time for a great cause! Don't miss out!
Click here to register at getmeregistered.com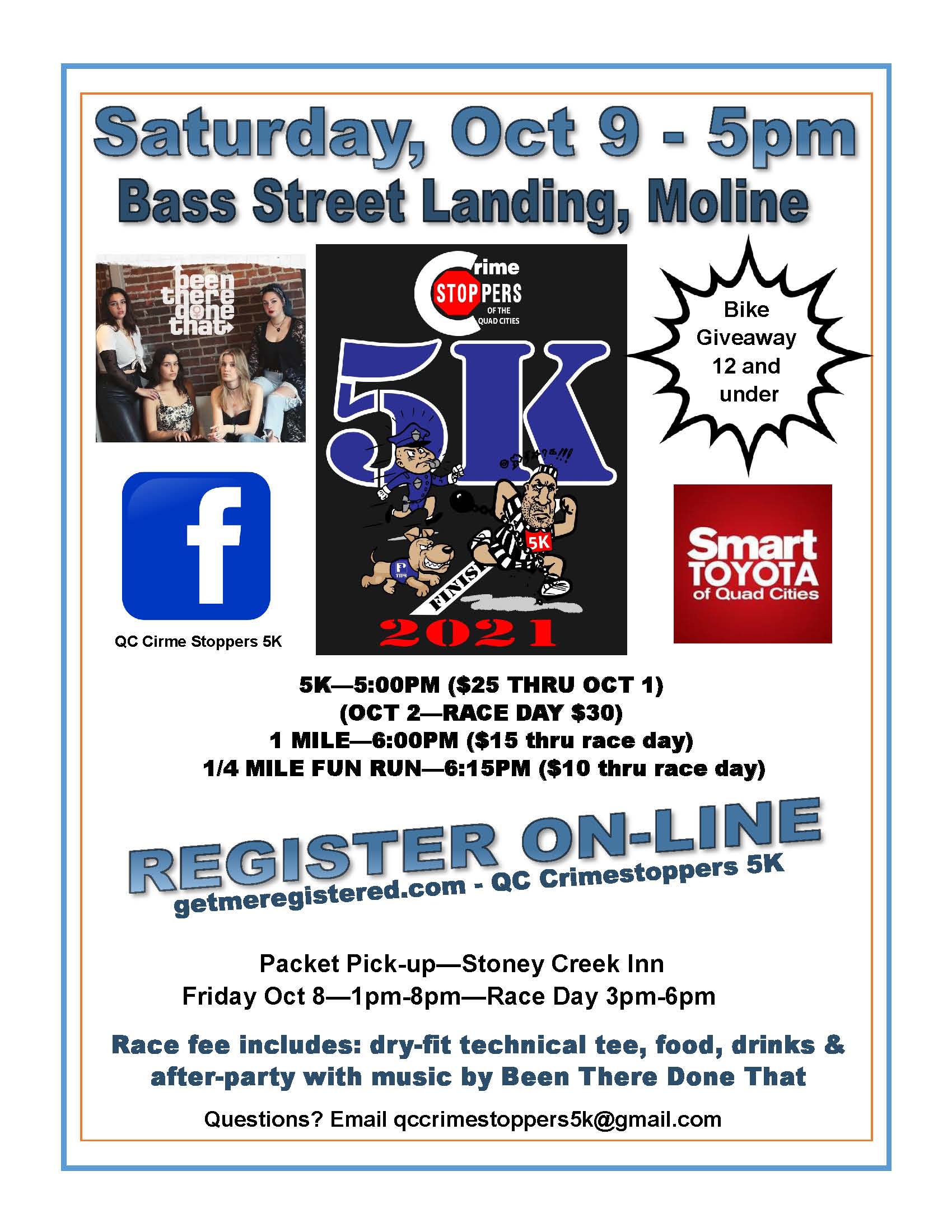 ---
DAVENPORT POLICE RAISE $ FOR CRIME STOPPERS
July 17, 2021
On Saturday, July 17, 2021, Northgate Hy-Vee on Kimberly Road in Davenport hosted a customer appreciation day. Davenport Police Sergeant Harris and Officer Rusk were present handing out free children's books. Officer Rusk spent several hours in the dunk tank raising money to fund the Crime Stoppers P3 Campus app for Davenport schools. About $300 was raised. Thank you Sgt. Harris and Officer Rusk!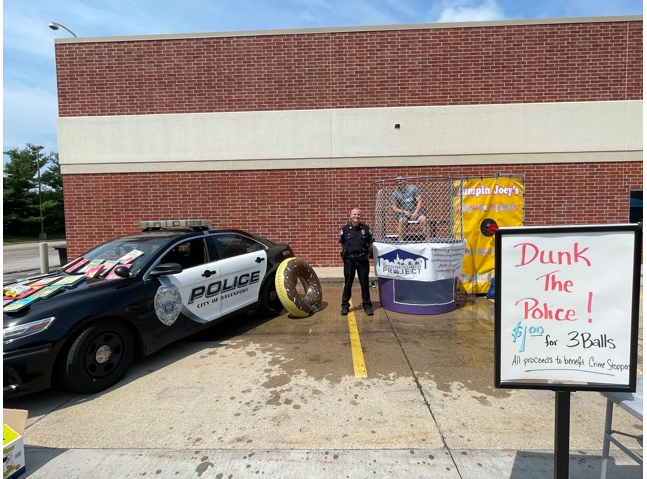 ---
MINIATURE GOLF FUNDRAISER WAS A SUCCESS!
March 23, 2021
On Saturday, March 20th, 2021, Crime Stoppers of the Quad Cities hosted a miniature golf charity fundraiser to help fund the Quad City wide P3 Campus program. P3 is an anonymous school safety app that is of no cost to students, parents, educators or law enforcement. Everyone who came out to join us had a great time putting around! First place honors went to the Tudi's Tribe team and second place to the Josh Loete team. Congrats!
The Crime Stoppers Board of Directors would like to thank our title sponsor Smart Toyota and other sponsors for their support. Over $13,000 was raised. We couldn't have done it without you!
Other sponsors:

Pribyl Group/Baird
Ostrom Painting
Midwest Bath
Tri-City Electric
Stern Beverage
Moline Municipal Credit Union
Mable and Roger Carlson
Van Meter
Dora Villarreal States Attorney
Breakfast Optimist Club
Tudi's Tribe
Hungry Hobo
Hanna Ruud Law Office
Graybar Electric
Esterdahl's Mortuary
Moline Police Benevolent Association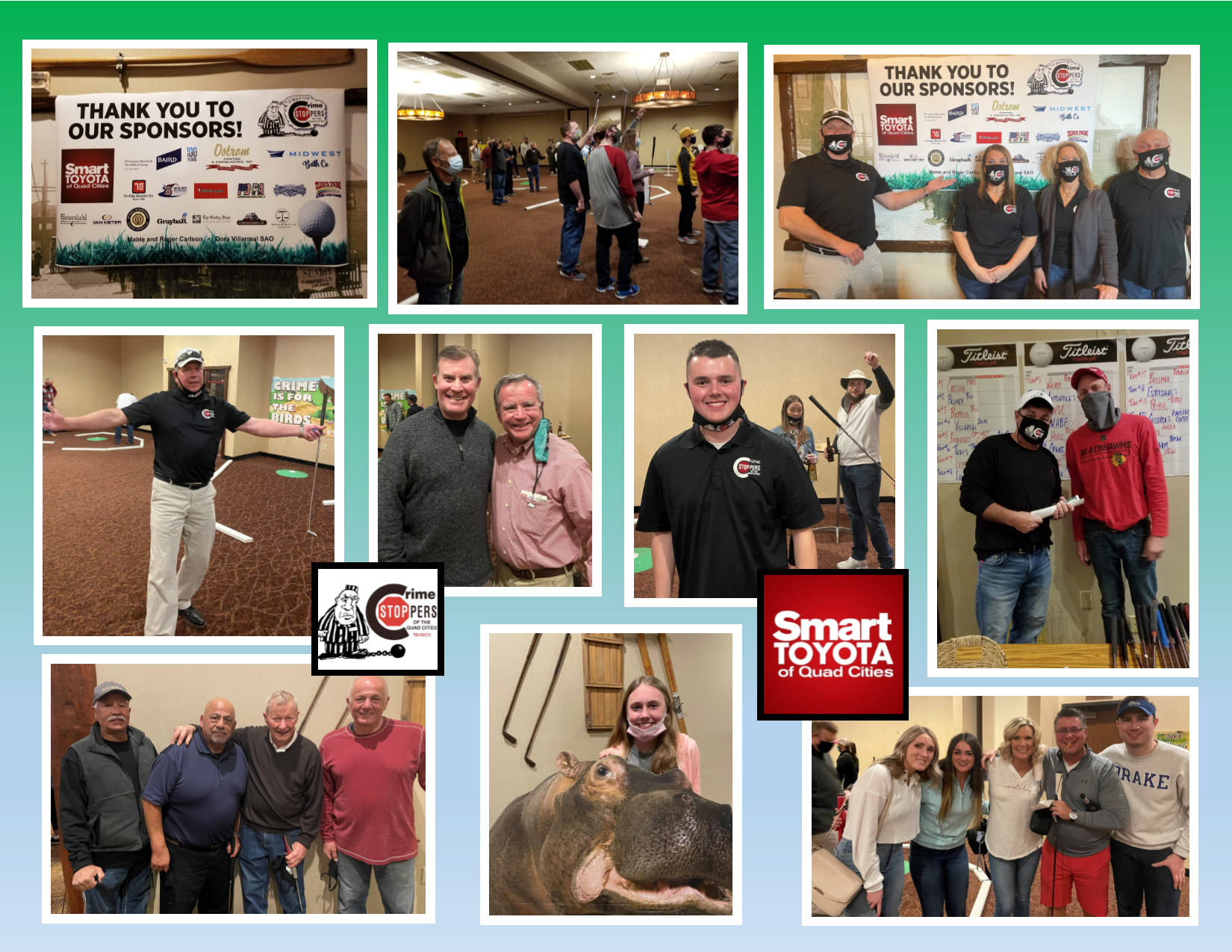 ---
CRIME STOPPERS BENEFITS FROM THREE-DEGREE GUARANTEE
February 17, 2021
During the month of January, Crime Stoppers of the Quad Cities was the beneficiary of $580 raised through WQAD weather team's and Eriksen Chevrolet's Three Degree Guarantee. Each time the weather team correctly predicts the day's high temperature within 3 degrees, $20 goes into the pot. At the end of the month the total raised is donated to a local non-profit.
This donation will be used to help solve and prevent crimes in the Quad Cities. Citizens can call our tip line 309-762-9500 or submit a tip regarding unsolved crimes or the location of fugitives using our free app P3 Tips. All tips received are anonymous, and if their tip leads to a felony arrest, they receive a cash reward of UP TO $2,500. Crime Stoppers also funds the use of the P3 Campus app which allows students in the Quad Cities to let police and school officials know of crimes occurring at school, or other issues such as suicide, child abuse, substance abuse or other concerns for the welfare of students.
The Crime Stoppers Board of Directors and Police Coordinator Detective Jon Leach wish to thank WQAD and Eriksen Chevrolet for this generous gift!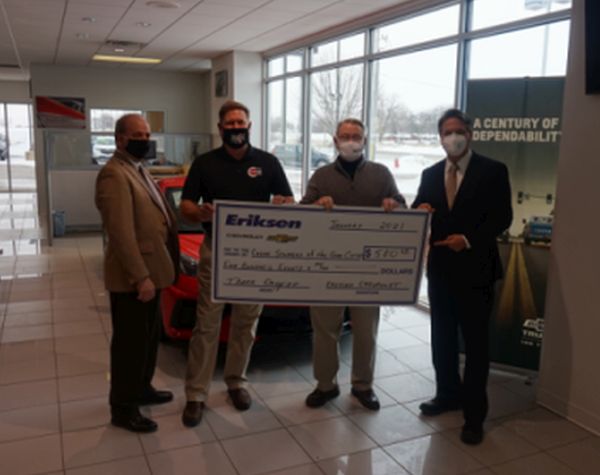 ---
THE HONORABLE JOHN BELL HONORED
December 10, 2020
It couldn't have been a more beautiful day to remember Judge John Bell, former President of the Crime Stoppers Board of Directors who passed away a year ago. So many people who loved and worked with John came out to the Rock Island County Justice Center to remember him with the dedication of a memorial bench. John was a very humble man who put everyone else's needs before his own. We are so grateful for the years we were able to work with him. John Bell worked very hard to make Crime Stoppers successful. He truly helped take our program to new heights and he is dearly missed.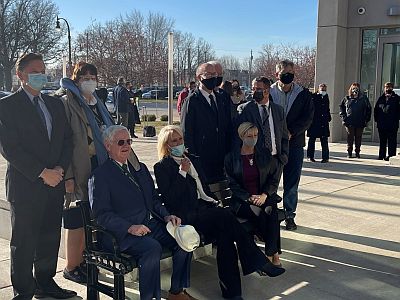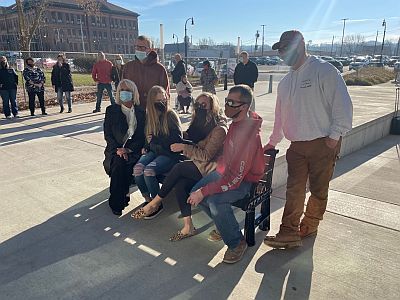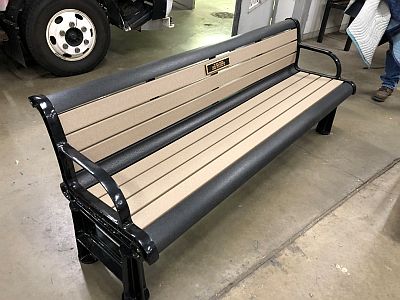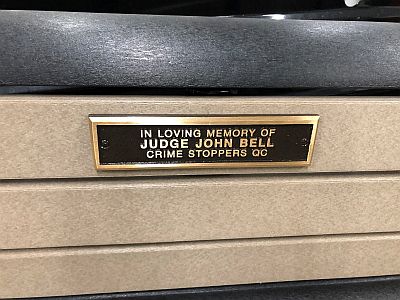 ---
CRIME STOPPERS RECEIVES MEMORIAL GIFT
January 15, 2020
The family of former Crime Stoppers President and retired Rock Island County Judge, John Bell, visited our January 2020 Board meeting. The family presented Crime Stoppers of the Quad Cities a check in the amount of $8,015.00 in memory of Judge Bell. Judge Bell's passion for safety within the community was undeniable as he spent an incredible amount of time supporting and guiding the program. Judge Bell's memorial speaks volumes as to how well he was respected and loved within our community. Judge Bell's entire memorial donation will be used to enhance safety within the Quad Cities. Detective Leach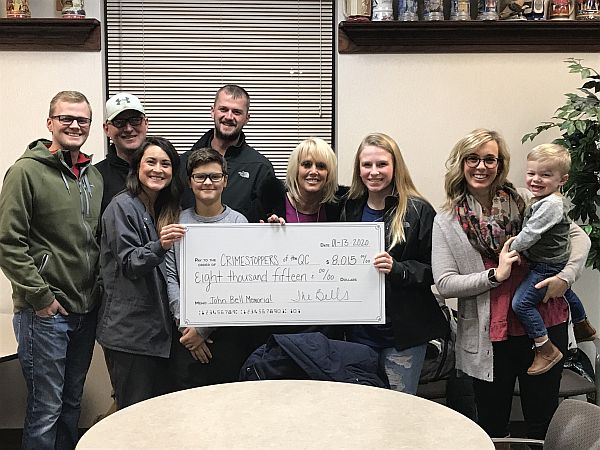 ---
BOARD PRESIDENT JOHN BELL HAS PASSED AWAY
November 22, 2019
On 11/22/2019, Crime Stoppers of the Quad Cities lost a valuable member of our Board of Directors. It is with a heavy heart we announce we have lost our Board President, the Honorable Judge John Bell.
Judge Bell took over as Crime Stoppers President in January of 2018 and hit the ground running. Judge Bell became an ambassador of the Crime Stoppers program, making every public appearance possible and encouraging the public to become more involved in helping to make their community safer. Judge Bell's promotion of the program saw incredible results through stats that showed arrests and cases cleared were tripled in 2018.
Judge Bell was instrumental in several fundraisers and activities which brought new life to Crime Stoppers. His vision of a community involved program by disseminating information through media helped make the program more visible.
As a Circuit Judge, Judge Bell was caring, fair and communicated in a transparent manner which created trust with those he worked with. Judge Bell continued this with his Board of Directors and built a strong team with a leadership like no other.
I personally have been blessed by working with Judge Bell closely for the past two years. Judge Bell taught me a great deal in a short amount of time. I benefited greatly from his wealth of information. I learned to be a patient and forgiving person and I see his loss as not just a devastating moment to his family, but to everyone he touched in his lifetime. Judge Bell made me a better person and if given more time on this Earth, I feel he would have continued making an impact on others. I'm blessed to have called Judge Bell a close friend and I'm very proud of everything he has accomplished in his lifetime.
The Quad Cities lost a champion of justice, a person who dedicated his life to making the community safer and always did so with a smile that showed his kind heart. You will be missed my friend.
Detective Jon Leach Police Coordinator Crime Stoppers of the Quad Cities.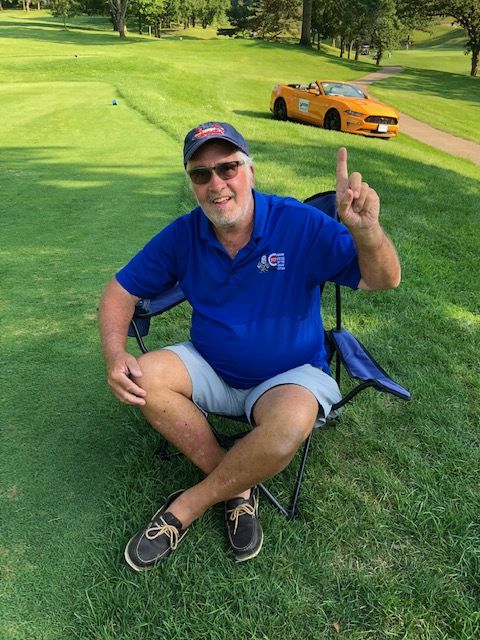 ---
COORDINATOR GETS COVETED AWARD
September 22, 2019
On Sunday night (September 22, 2019) at the Crime Stoppers USA Conference in Temp AZ, Crime Stoppers of the Quad Cities Police Coordinator Jon Leach was presented with the 2019 Marty Mamuyac Memorial, P3 Coordinator of the Year award presented by Anderson Software.
Anderson Software is based in Nacogdoches,Texas, and are the developers of the P3 Tips and P3 Campus apps and tip management software. Anderson Software has been the industry leader in anonymous crime tip management solutions over the last 20 years.
Owner/Founder Kevin Anderson presented Jon the award in front of the assembly of many of the 310 conference attendees from across the United States, Canada, Guam and the Marieta Islands. Crime Stoppers of the Quad Cities' Board of Directors Vice President Mark Carlson and President Retired Judge John Bell were also in attendance for the presentation. John Bell says that "The award is well-deserved and that conference attendees are seeking Jon's input based upon his ideas and commitment to the Crime Stoppers program."
Anderson Software Vice President of Business Development Todd Wagner told us that: "This is only our second year promoting this coveted award. All Crime Stoppers programs in the US were invited to submit nominations. Of all the nominations received, Jon was selected unanimously from a long list of highly acclaimed nominations. His ability to accomplish so much – in so little time – was worthy of high praise. We hope that more coordinators are inspired to broaden the reach of Crime Stoppers."
Detective Leach is a 15-year veteran of the Moline Police Department. He was appointed Coordinator of Crime Stoppers of the Quad Cities in August of 2017. Some of Jon's accomplishments since that time include:
The implementation of the P3 tips software. This software is used by Crime Stoppers of the Quad Cities to manage the more than 125 tips we receive each month. The software includes a free downloadable app for citizens to use. Jon also made it possible for all school districts in Scott County Iowa and Rock Island County Illinois to utilize P3 Campus (the school version of the P3 tips software) with no cost to the school districts.
Jon has formed a rapport with our local TV, radio and print media. Through his efforts and the help of the media, our public awareness in the community has greatly increased. As a result, the number of tips received and felony cases solved more than doubled in 2018 from the previous year. And the rewards paid to tipsters whose information led to felony arrests quadrupled.
After 36 years of Crime Stoppers' maximum reward being $1,000, Jon, with the agreement of the Board of Directors, raised the maximum reward to $2,500. That amount has been paid out several times.
Jon, with the approval of the Crime Stoppers Board, implemented an officer trading card program with Moline Police and East Moline Police. The Crime Stoppers logo and P3 information is on each card. Officers pass out cards as they interact with youth in the community.
With the assistance of the Board and volunteers, Jon has raised money for the Crime Stoppers reward fund with various fund raising events such as a Golf Outing, Crime Stoppers 5K, and Paul McCartney ticket raffle.
Jon would say to all this, "It takes a team" for Crime Stoppers to be successful. And it does! It takes the media, it takes the public, it takes law enforcement, and it takes a supportive and active Board of Directors. But without Jon's dedication and enthusiasm, without his tireless work, great ideas, and most of all, his leadership, none of this would have been possible.
The Board of Directors of Crime Stoppers of the Quad Cities wishes to congratulation Detective Leach on his award and for a job well done.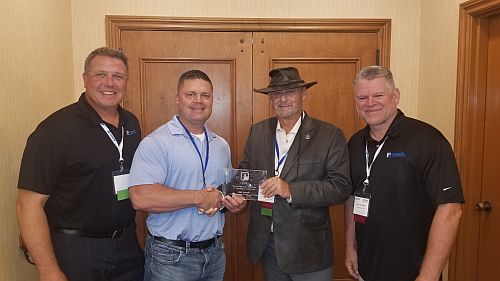 ---
INTRODUCING P3 CAMPUS
September 17, 2018
Crime Stoppers of the Quad Cities has partnered with Illinois and Iowa law enforcement and Illinois and Iowa school districts to bring an anonymous reporting program to parents and students K-12. P3 Campus will soon be available in every school district in the Quad Cities to make anonymous reports about concerns of safety or student wellness. Crime Stoppers of the Quad Cities wants to increase campus and student safety, and provide students and parents with a safe, completely anonymous outlet to share concerns.
Students can use the new and free P3 Campus app to report: bullying, suicide concerns, depression, sexting, stealing, threats, cutting, abuse, dating and domestic violence, fights, alcohol, weapons or other types of dangerous situations that threaten their safety or the safety of others. Each report will be sent to and addressed by school administrators and the school resource officer.
When you or your student have a concern, you can go to P3Campus.com on your computer, tablet, or laptop or you can download the P3 Campus mobile app on your phone (use Apple Store for IOS users or Google Play for Android users) and make a 100% anonymous report in minutes.
The safety and security of students, faculty and staff are of the highest priorities of Crime Stoppers. Our greatest safety net is the involvement of each member of our community working together to provide for the safety of all.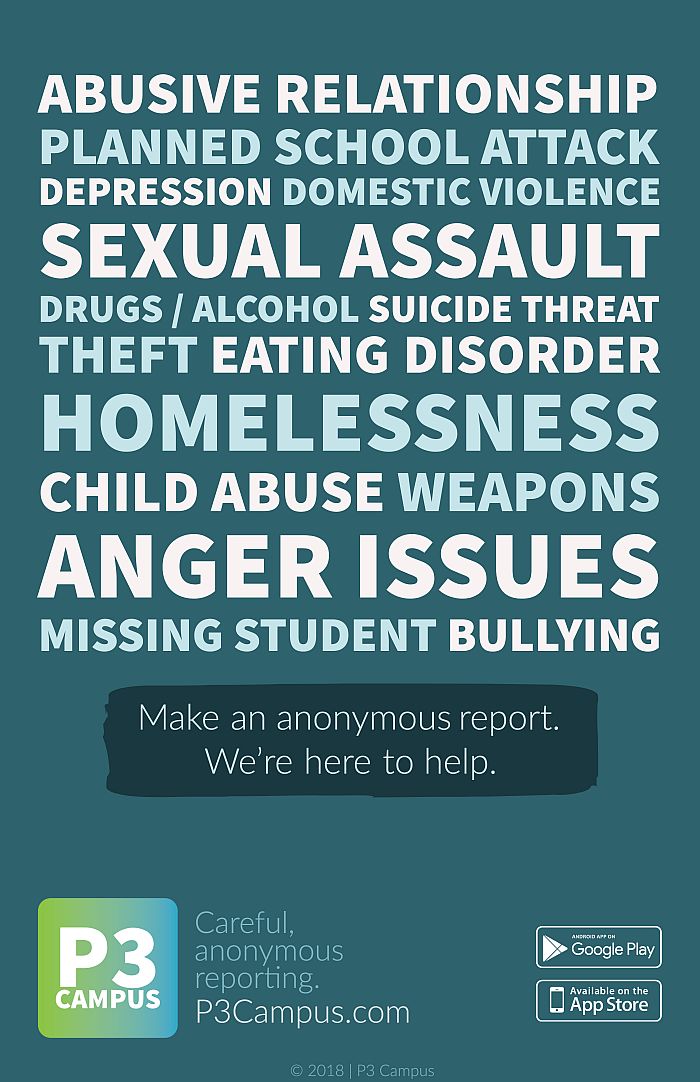 ---